WE  CURRENTLY  HAVE  BLACK 

PUPPIES  AVAILABLE



Click here to see our litter announcement page for details.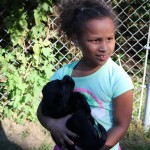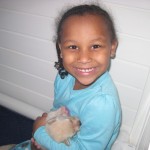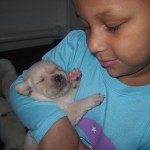 Photos From Recent Shows
The love of Labrador Retrievers started many years ago for me (Denise). My first Lab/ Lab mix was rescued from a junk yard. It was easy to see that his owner was not very fond of him.  He said "Take him. He is stupid!" The black lab's name was changed from "Sooner" to Scooter. The former owner called him Sooner because he would have liked for him to be "sooner dead".
Scooter was about a year and a half old when we got him. He took quickly to our house and my oldest kids adored him. My son at about age 4-6 would open Scooter's mouth and stick his head in his mouth pretending Scooter was a lion.
Scooter was a wonderful babysitter for my toddlers at the time. The "toddlers" are now adults, Scooter was there for a lot of their childhood.
Scooter would climb a ladder to retrieve his Frisbee that would land on the roof and climb the tree in our front yard. All in all, he was a great dog!
Following Scooter came my first AKC registered yellow Labrador Retriever. We called her Lil Bit because she was the smallest of the litter. I was present at her birth and worked on her for about 45 minutes (between deliveries of other litter mates) to get her to respond and latch on to her mother while my dear friend Nancy, the owner and breeder of the litter was busy tending to the needs of the whelping bitch.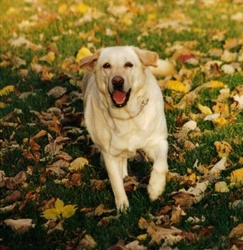 I should mention, I didn't want another dog. God and my Daughter, Kristina had other plans. Long story short, 7 weeks later Lil Bit came home. Years went by and a couple of  kids left home. I married Dave Misaras (probably the smartest thing I ever did) in 2000.
My two kids who were living at home, Kaitlin and Aaron along with Lil Bit and our cat Dink moved in with Dave.
In 2004, Lil Bit was gone. I made the decision to have her humanly euthanized. She had battled many health issues.
As hard of a decision it was to make, I made it, I had to. It had come to a point where I had to ask myself what was in Lil Bit's best interest. It was the hardest thing I'd ever had to do up to that point in my life.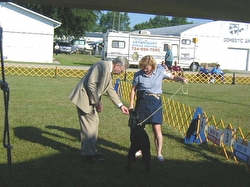 Within moments of her passing, through my tears and anger I told Dave (He was there too) " I will NEVER have another dog!" and I meant it!
I came home, told Kait and Aaron and cried more. At one point, a day or two later Kait and I looked at each other, we both swear to this day that we heard Lil Bit in the house. I could smell her and I couldn't get over missing her. My stand shortly after her passing of never owning another dog lasted roughly, 72 hours.
The search was on. I wanted another yellow lab! All Dave could say was "that didn't last long". What I didn't know was how difficult it would be to find another AKC registered Labrador Retriever. Holy smokes! It was nearly a full time job! It took 7 months to find, and another 2 months before Barke's Blackrock Lil Bit More Rain (Rain) was picked up and brought home.
Roger Dieckmeyer and Parke Dieckmeyer bred Ch Blackrock Bravo to Barke's Shadow In The Night. (It took several weeks of emails between myself and Dale Brummett of Blackrock Labradors when finally, Dale let me know about the litter sired by his dog, Bravo, and that he had talked to the breeder, Roger Dieckmeyer about Dave and I.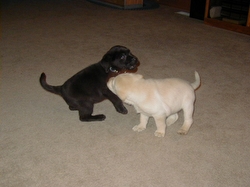 We were given 2nd pick from the litter, Dale had 1st pick.) There was only one yellow girl in the litter and I wanted the yellow girl SO badly! But that wasn't meant to be. Dale took her, he did have first pick.  We went to see the puppies when they were two weeks old.
In my eyes the yellow puppy wasn't "pick" of the litter. In my opinion. Rain was! Rain is black! I was color blind before I picked Rain. I only wanted yellow and wasn't interested in owning a black or chocolate. I'm happy to say, I'm no longer color blind and we are delighted that we have Rain (the Queen) in our lives!
We decided to get involved with Huron River Labrador Retriever Club. We were thinking seriously about showing Rain and eventually, we did! Rain did very well (considering the person on the other end of the lead didn't really have a clue what she was doing… that would be me.) but club members helped us along.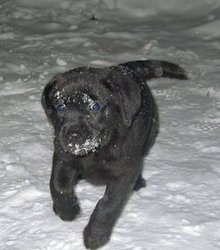 The main reason I decided to start showing Rain was to give me something to do while Dave was out fishing bass tournaments on the local, national and international levels. Dave was gone a lot!
Dave went to shows when he wasn't fishing and we found he was enjoying dog shows almost as much as he enjoyed fishing. Dave doesn't fish much competitively anymore but does attend dog shows and even takes our dogs into the show ring from time to time and he now allows a dog in his boat when we do go out for a day of relaxed fishing.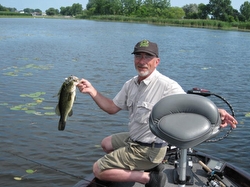 Dave and I love our dogs. We appreciate them each individually for who they are, each with their own unique personality. Our dogs are our pets first and anything else they do in the show ring or in the field for us, is a bonus..
Dave and I do not consider ourselves to have a "kennel" and only plan to have a litter or two a year and only breed when we plan to keep a puppy or two ourselves.
We have a "short list" of our top pick Stud Dogs to consider for future breedings to our girls in excess of three (breedings) years out. We do take breeding very seriously.
We feel that health clearances are vitally important prior to any dog being placed in our breeding program. We strive to breed quality Labrador Retrievers with awesome temperaments capable of working in the field, show ring or service.
We like our dogs to be multi purpose Labradors and though for us, the show ring is what we enjoy. We also enjoy field work and we want our dogs to be able to perform in either, both or more activities.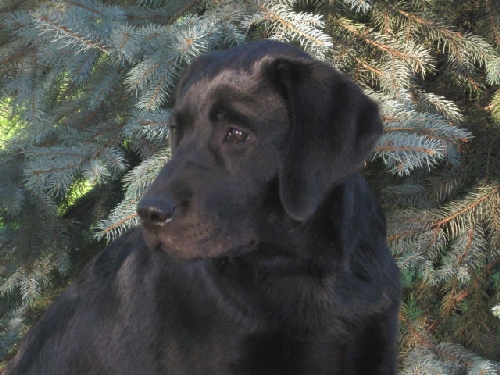 We have a minimum of what we require prior to breeding. We test hips, elbows, eyes just to name a few. We have several veterinarians we trust who are experts in their special field (hips and elbow specialist, eye specialist etc.) along with our general veterinarians.
Prospective puppy purchasers need to be aware that no puppy will leave our care until they are 8 weeks of age. Our puppies all have at minimum their first puppy vaccines, micro chip and vet checked prior to going from our home to their forever family.
We put a lot of time and effort into producing Quality, English Labrador Retrievers who have the ability to do what is required of them throughout their lifetime. Our hope is that their lifetime is long, happy and healthy and that they are forever loved!
A Labrador Retriever is a versatile family dog, with tons of energy (in most cases) especially as puppies. They enjoy being challenged and love having a "job".  Labrador Retrievers are loving, comforting and loyal. You can teach a lab almost anything and they are happiest when they are busy having fun with their owners.
Feel free to view our dogs and their pedigrees. We look forward to meeting and getting to know you.
Denise and Dave